Gene Smith in his Atomiq blog
shares his
interview
with Peter Morville about the future when everything will be taggable. They discuss Peter's recent article
"Authority"
and his new book
"Ambient Findability".
It's a great
interview
because Peter talks about the upside and downside to different search algorithms.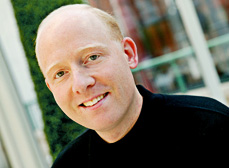 "Google's algorithms are optimized to produce the greatest advertising revenue to Google Inc. in the short-term and the greatest shareholder value to GOOG in the long-term."
Peter prefers
Yahoo! Mindset
because
"it uncovers the hidden bias and puts the user in charge of the algorithms. Algorithmic openness is a great strategy for Yahoo! I'm not sure Google can maintain its algorithmic secrecy indefinitely without consequence. I'm in favor of more transparent, user-configurable algorithms."
Peter believes that "What We Find Changes Who We Become." He brings to light many of the issues we face with RFID, collective intelligence and the simple reality of finding what we really want.
Read the
interview
and then have a read through Peter's article
"Authority"
.
Gene Smith also blogs on
You're IT - a blog on tagging
.