Cory Doctorow's new book -
Someone Comes to Town, Someone Leaves Town
- is available for download.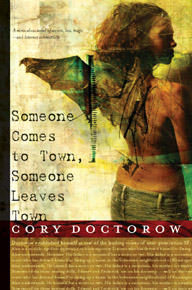 It's a science fiction tale of of archetypal characters playing out their roles in a weird cyber-world, which is at the same time funny and hip and full of street smarts. The hero sense of idealism leads him into adventures that Cory has crafted into intriguing scenarios. Could there be a film script coming?
Published under a Creative Commons license, Cory is offering people who live in developing countries the opportunity to download, print and sell his book.
You may recognize Cory from his blogging contributions to
Boing Boing
. He is also the European Affairs coordinator for the
Electronic Frontier Foundation
.